The tasks of the museum are not only to preserve artifact, but also to record historical events. One of such tasks was to document adoption of reconnaissance drones by Ukrainian Naval aviation. Valery Romanenko, Chief Research Specialist of the museum, visited a unit of the Ukrainian Naval Aviation during tactical flight exercises of combined naval forces as part of the Joint Forces-21 International command and staff exercises. In fact, this was the first real operational flight: the drones supported actions of a Marines battalion and fire support units.
Unmanned aerial vehicles (UAVs) became an important component of modern armed forces They are not only the eyes of armies and navies, but also the "long arm with the sword", carrying high-accuracy weapons. Attack UAVs are able to hit all types of combat vehicles on the battlefield. Thus, during the 24 days of the Nagorno-Karabakh war, Turkish Bayraktar TB2 drones, according to the Clash Report, destroyed 114 tanks, 43 combat vehicles, 42 air defense systems and 249 trucks.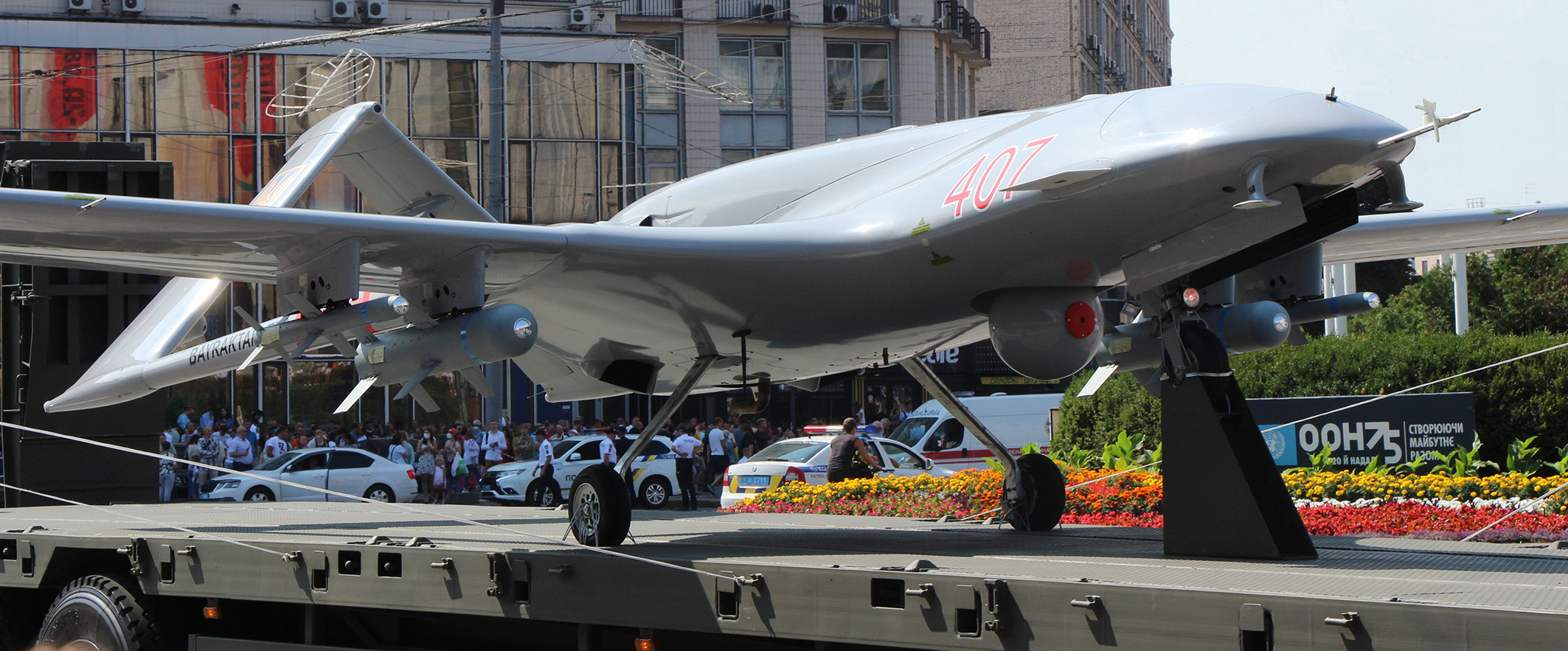 Bayraktar TB2 of the Air Force at the parade in honor of the 30th anniversary of Ukraine's Independence
The first medium-altitude long-endurance unmanned complex Bayraktar TB2 was received by the Armed Forces of Ukraine in March 2019. It successfully passed tests at the Regiment of remotely controlled aircraft of the Air Force. The tactical and technical data declared by the manufacturer were confirmed, among which - flight endurance test (up to 24 hours!) and high accuracy of the weapon. Bayraktars were also tested in the anti-terrorist operation zone in the East Ukraine.
To deter Russia's aggressive actions in the Black and Azov Seas, it was also decided to adopt such UAVs for the Ukrainian Navy. On July 15, 2021, the fleet received the first Bayraktar TB2 complex. On August 30, the first aviation squadron of unmanned aerial vehicles was formed as part of the 10th Naval Aviation Brigade.
Naval Bayraktars is an improved version, with double (from 150 to 300 km) range and upgraded equipment. They are capable of constant presence in the air and quickly strike targets appearing only for a short time, such as speedboats with reconnaissance and diversionary groups.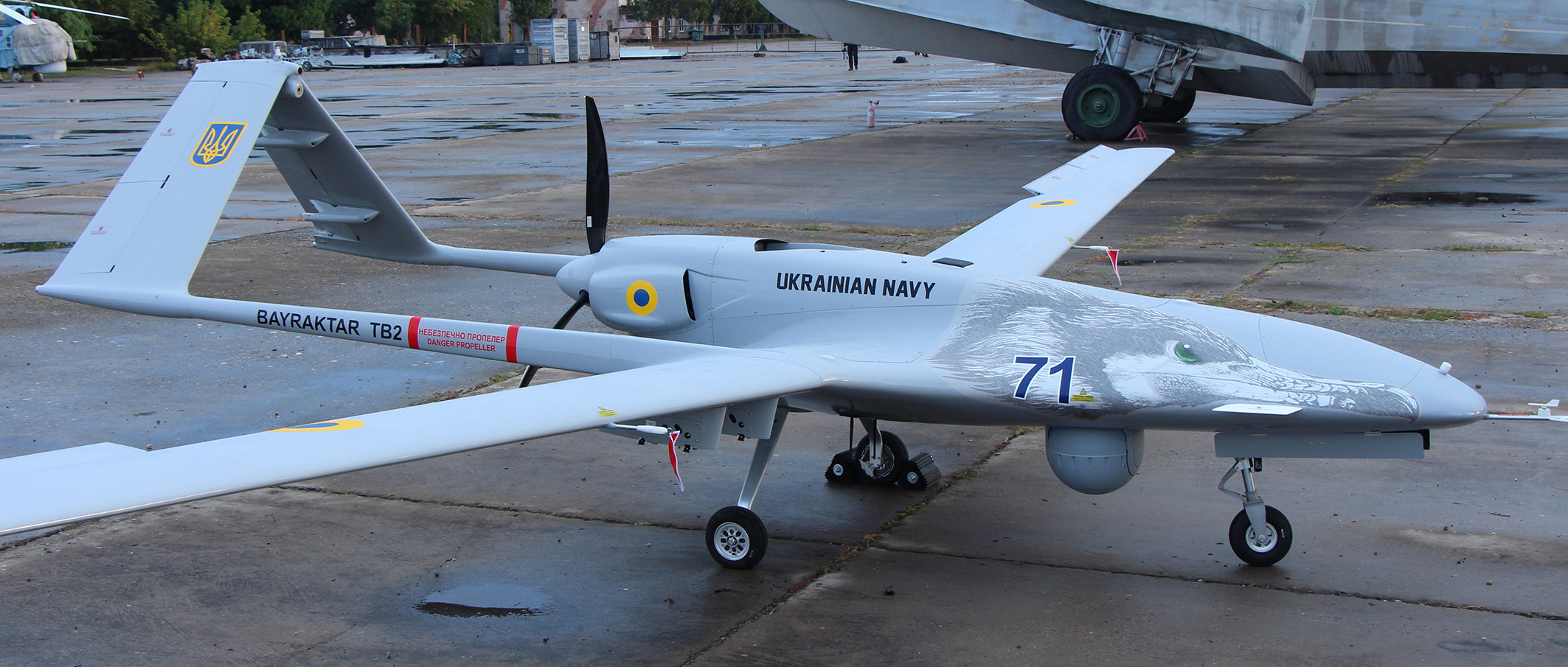 Naval drones carry on board images of cormorants. The photo clearly shows the difference between the Bayraktars of the Air Force and the Ukrainian Navy - the latter has a three-bladed propeller and different FLIR observation/weapon guiding system
The commander of the Naval Air Brigade, Colonel Ilya Oleynikov, said at the briefing: "The capabilities of this complex will allow constant monitoring the Black Sea and Azov Sea operational zones. Previously, the task of monitoring surface situation was entrusted to helicopters and naval aircraft. The aircraft could operate in the area at a distance of 200 km for 1-2 hours only. Now we have a Bayraktar TB2, which can monitor around the clock, and then alternate to another UAV and so for one, two, three days… as much as necessary. It is inconspicuous and is able to detect targets at a distance of up to 70 km, which significantly increases the capabilities of our reconnaissance. The experience of using the complex shows that its use is almost unaffected by the EW systems that are now in the armed forces of the Russian Federation."
Naval Bayraktar TB2 in flight
Bayraktars proved capabilities to detect enemy ships, determine exact coordinates and transmit this information online to headquarters and defensive installations, primarily to the coastal missile complex "Neptune", and in some cases to strike targets with high-precision ammunition. That is, offenders will not only be detected, but also severely punished!
Typically, the Bayraktar TV2 unmanned strike and reconnaissance complex includes two control stations and six drones. However, the naval complex also has a naval control station in addition to mobile and stationary ones.
The aircraft is made of carbon-fiber composite and is equipped with a 100 hp Rotax 912 piston engine. Its length is 6.5 m, wingspan is 12 m, maximum takeoff weight is 560 kg, top speed - 220 km / h, cruising speed- 110-130 km / h, range - up to 300 km, flight endurance - 24 hours, and working ceiling - 7000 m. It is equipped with an automatic takeoff and landing system, which greatly simplifies operation. The drone is controlled through secure communication channels, which are reliably protected from electronic warfare. The ground crew includes three people: pilot, payload operator and mission commander.
Bayraktar TB2 taxiing after landing in automatic mode
FLIR system is the most technological and most expensive component of the complex. It is concentrated in the sub-fuselage "ball", which rotates 360 degrees horizontally and more than 200 degrees vertically. It includes a powerful optoelectronic station with a thermal imager, thanks to which operators have the ability to track the enemy day and night at a distance of up to 70 km. Laser guidance system provides high-precision targeting.
MAM compact smart munitions were developed by the Turkish company Roketsan specially for strike UAVs, where the minimum weight is a critical requirement. They are equipped with a laser semi-active homing device, small wings and an all-turning control surfaces.
Bayraktar armament: "light" high-accuracy bombs MAM-C (on the outer pylon) and "heavy" MAM-L (on the inner pylon). Up to 200 such munitions are purchased for each complex
The UAV has four pylons for precision-guided bombs. The total combat load is 55-60 kg. It can take four "light" MAM-C bombs (each weighing 7 kg), or 2 "heavy" MAM-L bombs (weighing 22.5 kg) and two light ones. These bombs glide after being dropped. Depending on the initial altitude, the flight range of MAM-C reaches 8 km, MAM-L - 14 km (with the possibility of increasing their range when using GPS). "Light" bombs are designed to engage infantry, automobiles and light armored vehicles, while "heavy" bombs are used against tanks and small ships. The guidance system provides accurate hits with an error of less than one meter.
Bayraktar TB2 aircraft of the Navy returns to the parking area after reconnaissance flight
Bayraktar TB2 drone crews have been trained in Turkey and are currently completing training in Ukraine under the guidance of Turkish instructors. Series of tests with a number of training and combat objectives, were successfully passed in Mukolayiv area. On September 20, the first crews were deployed for combat duty in Joint Forces Operation zone in the East Ukraine against Russian terrorists.
According to the Commander-in-Chief of the Armed Forces, Lieutenant General Valery Zaluzhny, as of September 2021, Ukraine already has 12 Turkish-made combat drones and plans to purchase another 24 in 2021-2022. Negotiations are also underway to transfer the technology and production of Bayraktar TB2 strike unmanned aerial vehicles to Ukraine and to build a center for their maintenance, repair and modernization near Vasylkiv.
Text, photo and video - Valery Romanenko, Ph.D., a Chief Research Specialist of the museum.